shadras Brand was founded in 2007, by two sisters all of whom have entirely different professions (Mahsa – PhD in Architecture & Melissa- PhD in graphic design.) They trained in jewelry design for two years and the main focus of their first collection was made of brass and semi- precious Stones, soon afterwards, they extended their creativity to other accessories. While various collections take their initial inspirations from nature, architecture, Persian culture and calligraphy, Islamic motifs and forms, all get filtered through the designer's mind, using artistic and technical skills that interpret these concepts in a completely new and widely imaginative way.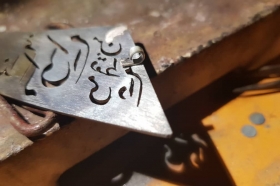 Deeply embedded in each and every works is a sense of play, of energy and of clean- lined beauty. With a concept story behind all pieces. While there are complex mechanics and architectural lines on display, the work is always executed by hand. It is something that remains important to Shadras We believe that "jewelry should always be handmade."
Shadras brand created great distributions among the world with fashion jewelry mix in leather like bags and mobile cases. Innovation play the most important role in their design and they mission is to introduce Iranian art and culture to the whole world by using them in their design.
After designing for more than 10 years in jewelry design. Now it's a time to go a little bit further than just designing a beautiful tiara, we can design in a different concept to show and express the art and culture of a country or nation to the entire word.
from the past times using of jewelry and keeping it as an investment has an important part in Iranian's life but they are few designers who see the design in a point of view of expressing the culture and idea of a nation.
  Our main goal is to design and made a tiara which is more than just a beautiful piece to wear, it supposed to be a creation of an artistic and cultural piece which people can keep and enjoy its beauty for years and pass it    between generations.  
 We inspired from Iranian motifs, culture and handwriting within a content of Persian famous poems.  and combine all these in a modern way. Our, cooperation with famous crystal brand Swarovski and using these crystals in our tiaras give them more shine and make them more unique.
 Shadras always keeping an eye on quality and sophisticated mix of materials to follow their slogan "If you can dream it, We can design it."
MAHSA SHADRAS
Position: Designer
Born 1983, she has received the degree of Bachelor of Science in Architecture Design from Eastern Mediterranean University Of North Cyprus before taking the degree of Master of Architecture from Iran Science & Technology University in Tehran. She is the founder of Shadras jewellery. She started learning jewellery design in 2007, after encouraging her sisters to join; they establish Shadras Handmade Jewellery as a brand. Getting inspire of Architecture as a volumetric jewellery and Innovation play the most important role in her designs .Her mission is to introduce Shadras brand to the entire world as a unique Iranian jewellery pieces which Using Iranian culture & motifs in a modern style. Her slogan is If you can dream it I can design it
MELISA SHADRAS
Position: Designer
Born 1985, she has been doing graphic design professionally since graduating from The Art University of Tehran with a Master degree in the Graphic Design. Her Master thesis was researching about Islamic motifs on seals rings. Studying typography design enhances her graphic & jewellery designs abilities and skills. She does all the packaging & advertising of Shadras jewellery in its best. Inspiration of Islamic motifs and Typography play the most important role in her designs. Her mission for jewellery designing is to make the graphic design as a wear art and show the beauty of Iranian calligraphy to entire world. In her opinion, Art with the calligraphy gets its ideal value.